Our new business cards came yesterday!! We are so excited about these, a little gold foil for some bling, beautiful pictures, AND they are that cool texture that is soft and smooth and makes you just want to hold on to it and rub it all….day….long. At least it makes us want to anyway! Ask us to see one so you can decide for yourselves! LOL We kept them simple and straightforward. Pretty much a reflection of how we like to operate. Check them out, share them around with your friends and family, tell them how awesome we are. ;)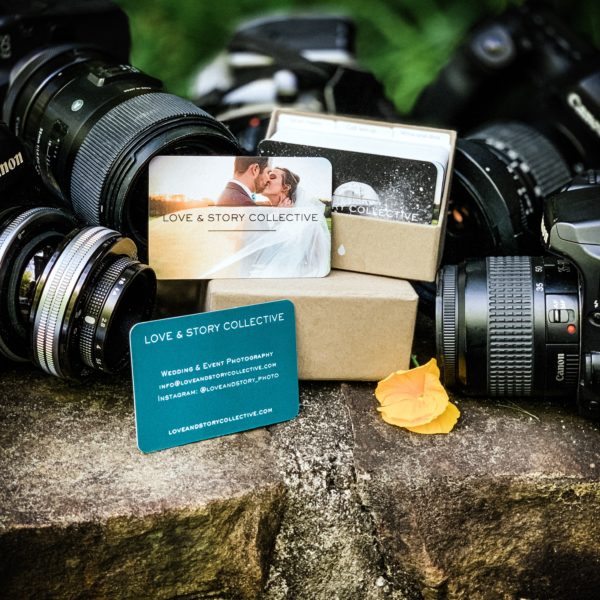 Also, I (Martine) wanted to briefly, or not so briefly, mention that those are only 5 of the cameras I have used in my long photography journey. There's my current baby, the EOS R with my beloved Sigma 35mm Art. And then my previous babies, 5DMkIII , 6DMkII, EOS 40D, and my first entry level digital DSLR, Canon Rebel XT. Not pictured, are my beloved 14th Birthday present from my parents Canon Rebel G (35mm), a Canon EOS Rebel 2000 (35mm), a variety of now defunct point and shoots, a Kodak Panoramic film camera (remember those from the 90s?), a Kodak Brownie from the late 50s (my mothers, but I keep it safe for her), a 60s Voigtlander Vito with lenses, a Holga 120 film, and a Lumix . I'm probably missing an underwater camera and maybe a couple of polaroids in this list, but I think you get the point. My love of photography is born of a desire to preserve my own memories and the beauty in this world.
My own earliest memory from when I was 4 and we lived in South Africa is still vivid in my mind. My parents would take us to the Kruger Park for vacations. We had a camper or we would stay in the, let's say "cabins", for lack of a better word, located in the park. I remember seeing the lions, the zebras, the giraffes. I even remember my parents driving over this bridge that was way way up high and saying to me, "See all the eyes in the water, that's hippos." Not scary then, just like going to the zoo here in the US. But the most vivid part I remember about that last trip is my oldest brother driving the 1980s family station wagon, when we came upon a bull elephant. Now, the elephants you see in the zoo, are calm, somewhat docile, sweet creatures. A bull elephant protecting it's heard and a baby calf, is another beast. Since this bull elephant was insistent we do not pass, he proceeded to stomp his feet, swing his trunk and prepare to charge. My brother, being a younger driver, went forward instead of backwards. Yes, forwards. The road split around a narrow island of trees, we went one way, the elephant charged down the other. BUT, now, we needed to turn around. There was no way we could go down the road where the calf was being kept safe by the mom. Ya'll, I have 2 brothers and 2 sisters. We were all in the car. Can I tell you how much screaming there was going on as this bull elephant chased us around this island of trees and my brother tried to navigate to get back from whence we came? As a 4 year old, tiny and small in the chaos, all I could keep crying was "I want to go home.". I was terrified of elephants for the rest of my childhood. Refused to go near them at zoos. Scarred for life by our car vs elephant battle Royale in the bush of South Africa.
In any case, I mention that story because I've often wondered, without the images my parents and brother (they too love a good camera), would I have remembered not only that experience but the rest of that trip? Without the photos to go back and view as we would sit around and recount the stories, would the memories have stayed with me quite so well? I truly wholeheartedly believe that I would not. It's why I believe taking pictures of the important moments and the ordinary ones is SO important.  It's why I share my talent and my love of the art with you.